Mark your calendars, Seniors! May is coming quickly.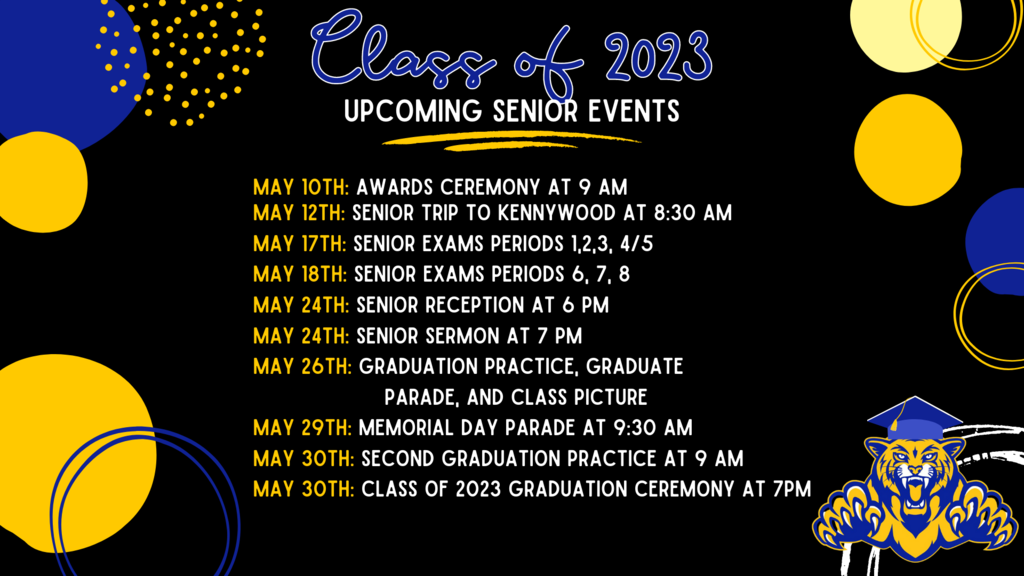 Upcoming Events at GHS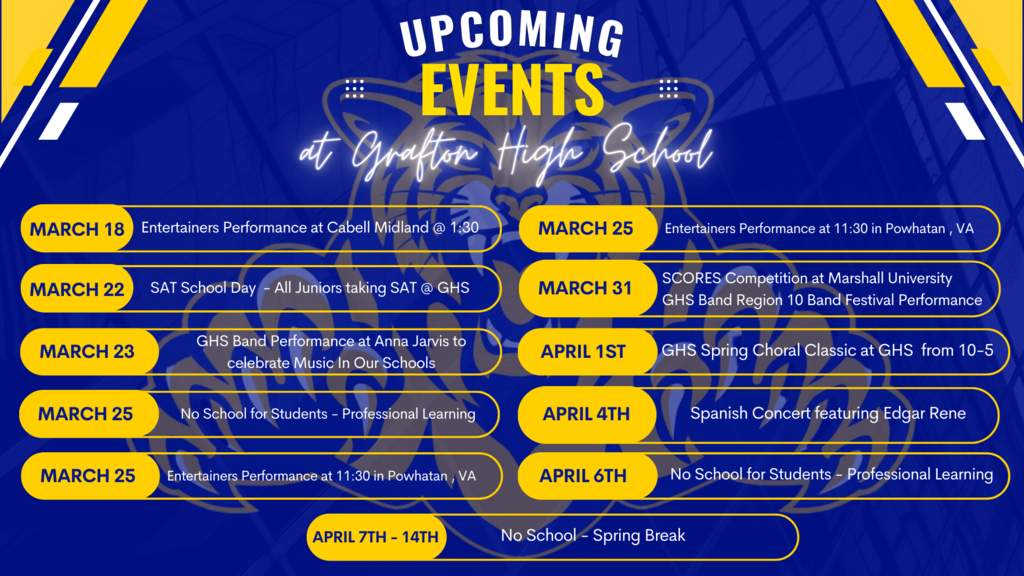 Prom Guest Request Forms are now available in the main office and counseling office. If you are a GHS Junior or Senior planning to bring a guest from outside of GHS to the prom, you are required to fill out a guest request form. All forms are due to Mr. McCarthy by April 26th. Forms are available electronically on class specific Teams as well.
Reminder that Spring Break is coming up!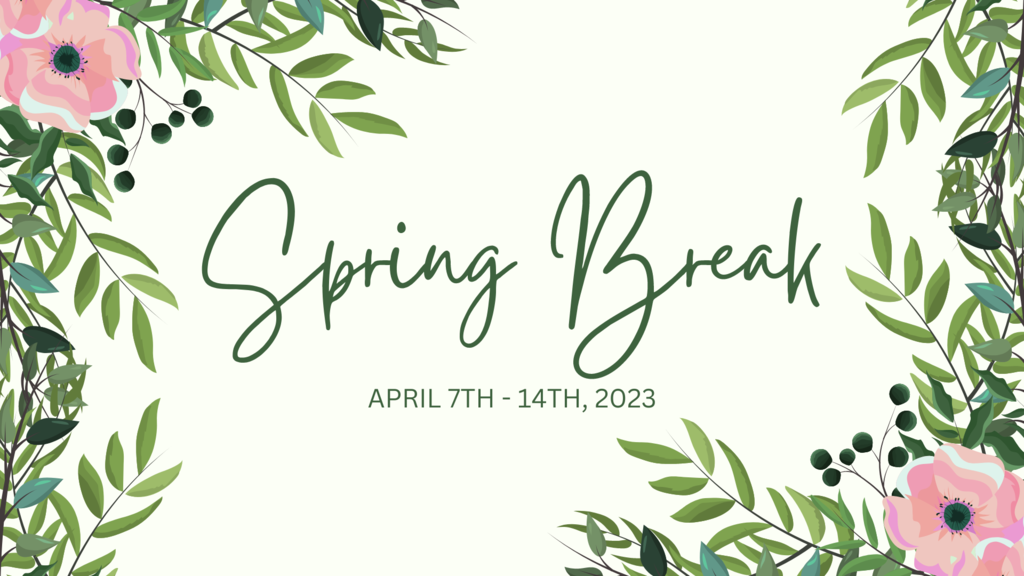 Reminder that there is no school for Students on the following dates: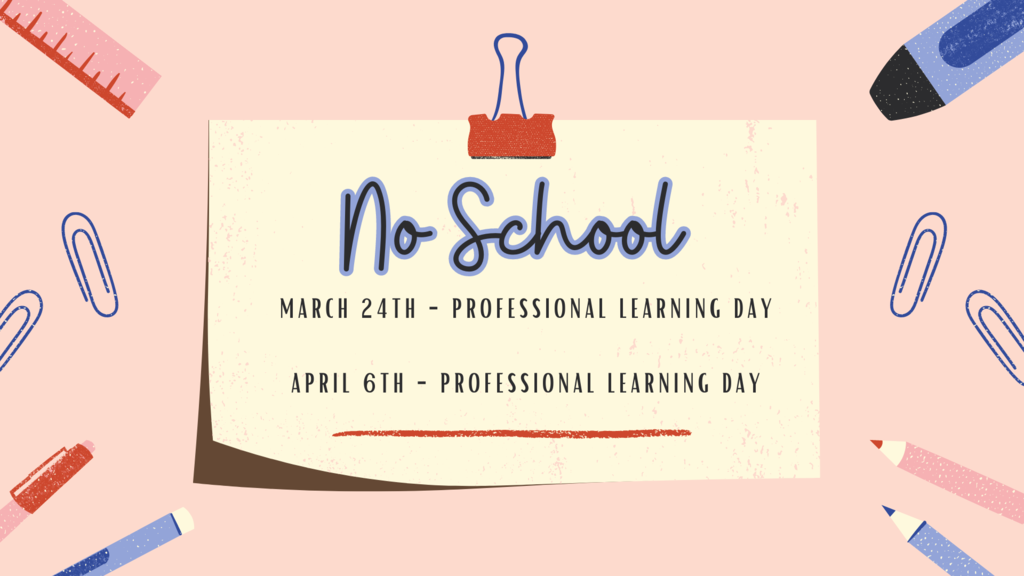 Upcoming Events at GHS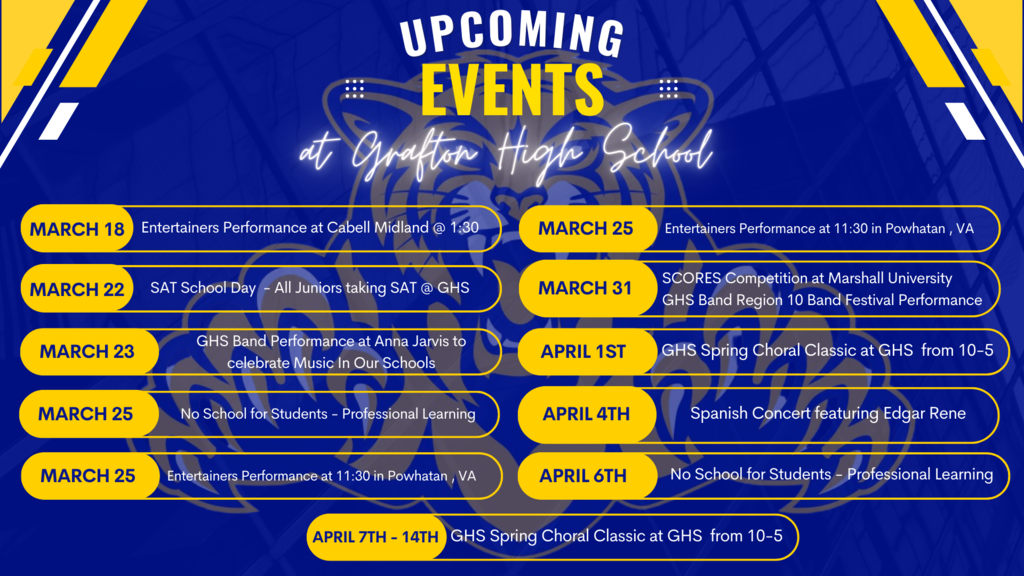 We have changed the date of the Whitewater Rafting attendance trip for any students who are eligible and would like to go. You can sign up outside of the main office bulletin boards down the ramps. You are now permitted to go to both the zoo and the whitewater trip. Please get signed up as soon as possible. First 40 to sign up who are eligible will be able to go. This is a great trip that is a wonderful experience for our students to get to explore WV!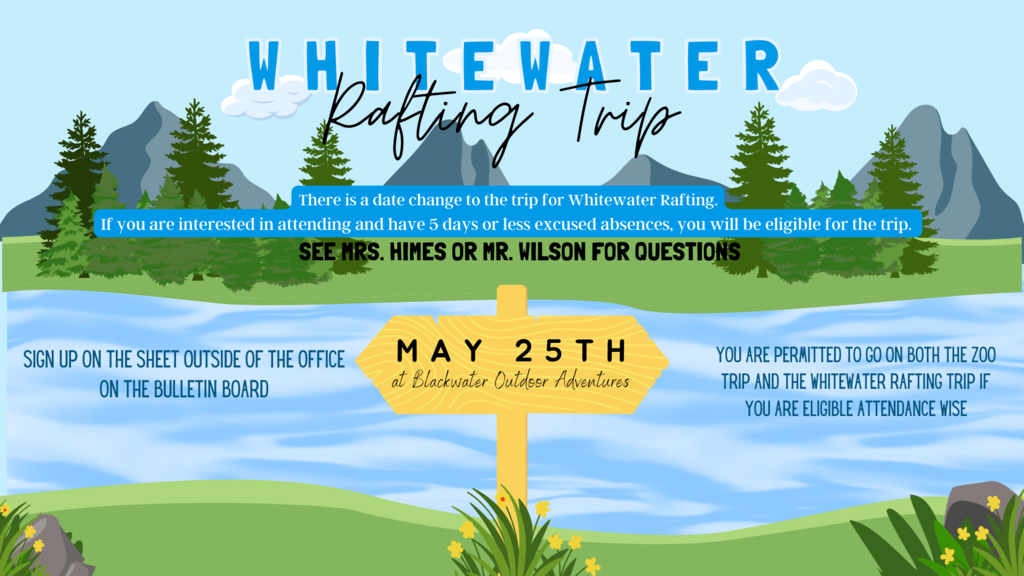 Congratulations. #BearcatProud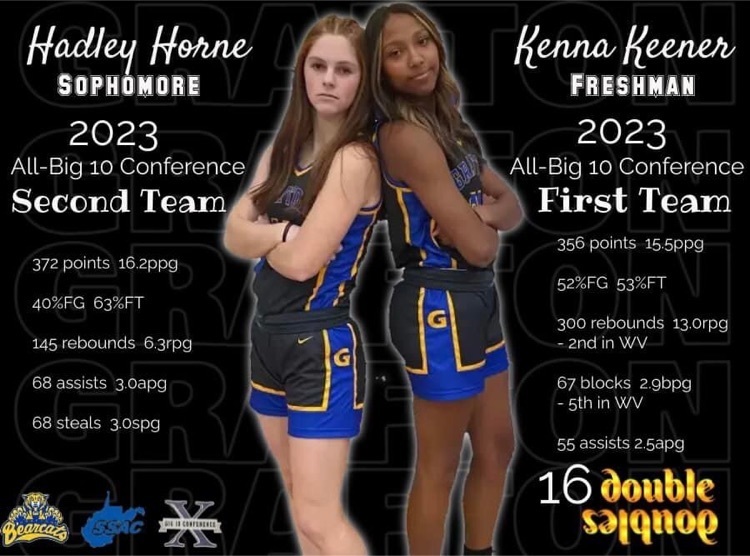 Congratulations to our first group of Digital Imaging Year 2 students for successfully completing the requirements to be recognized as an Adobe Certified Professional for the 2022-2023 school year! Students recently earned an industry recognized credential in Graphic Design & Illustration using Adobe Illustrator. Connor, Mattie, and Gabby also earned Photoshop certification in the Year 1, Digital Imaging & Multimedia course. This two-certification accomplishment provides them with an additional digital badge to add to their email signatures, resumes, and portfolios. The additional badge is featured and is titled, "Adobe Certified Professional in Visual Design." #ThisisCTE #adobe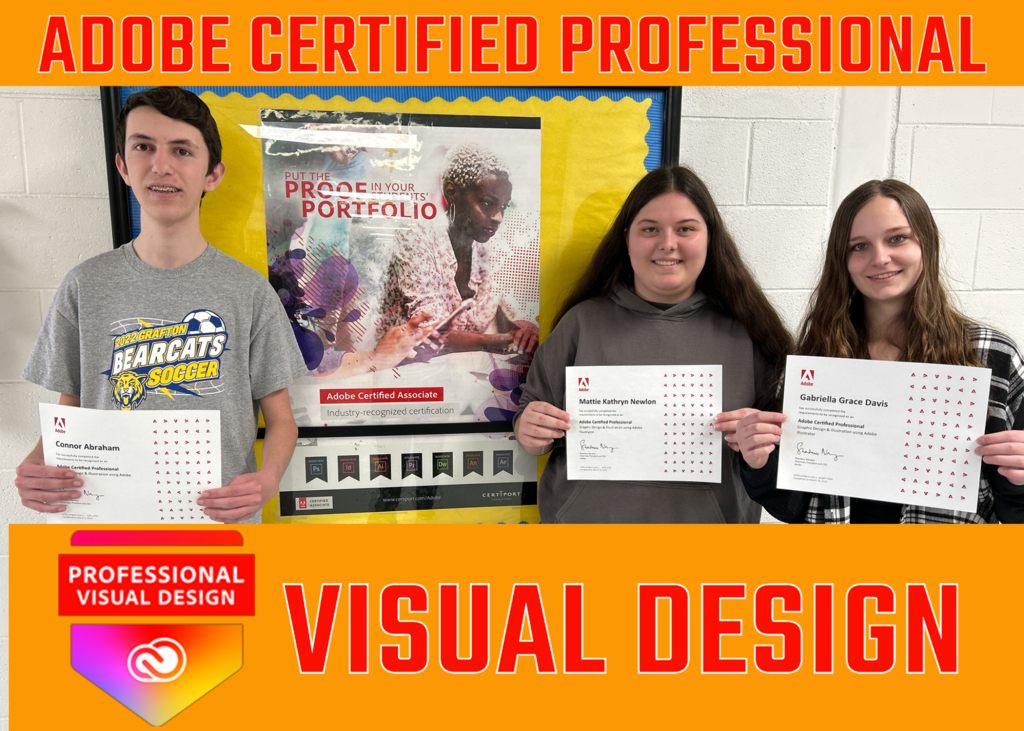 Congratulations to the GHS students who placed at the WV FBLA State Leadership Conference. We are so proud of all of our students and teachers who attended and represented our school so well. #bearcatpride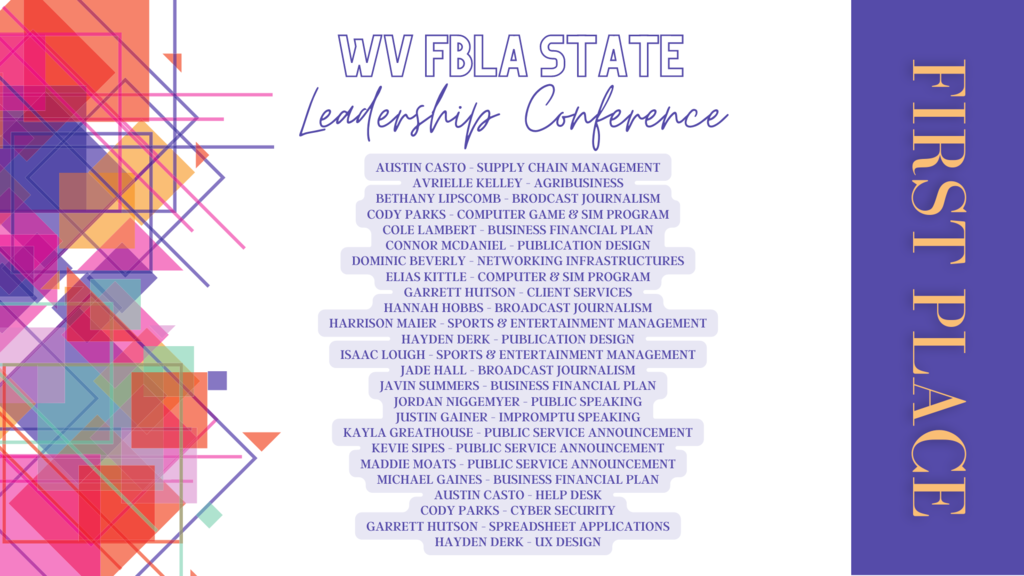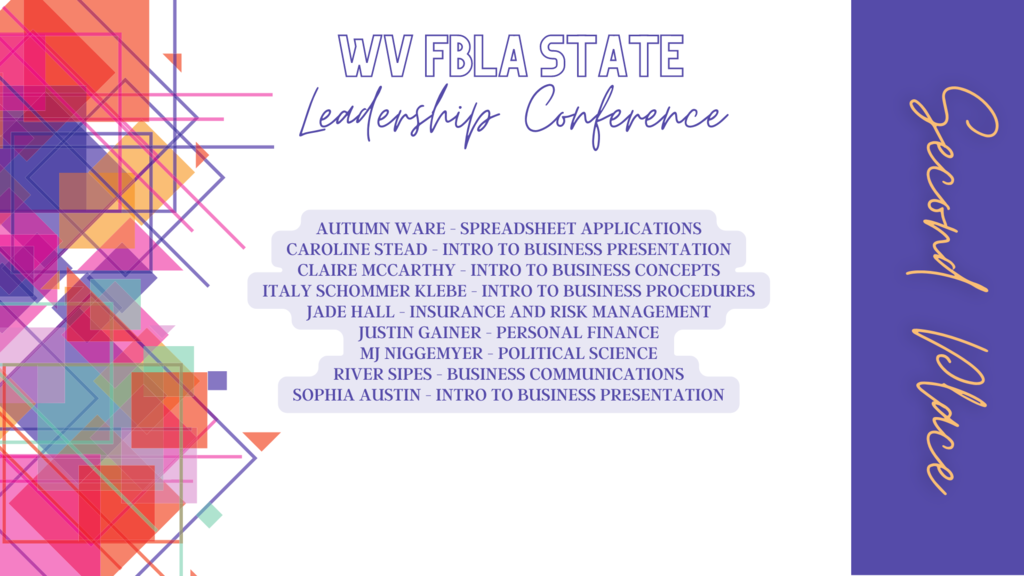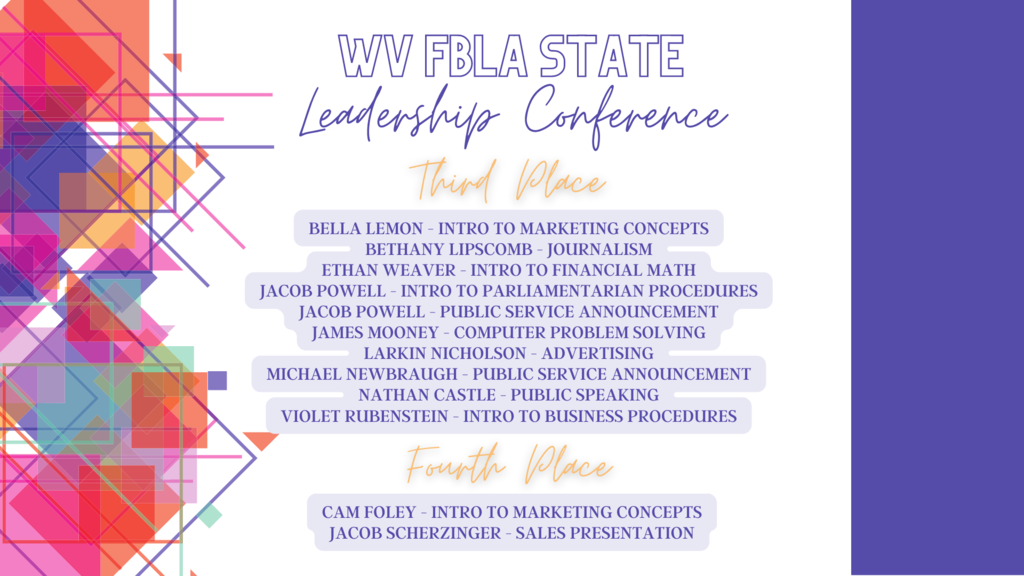 Congratulations, Caroline! Way to represent GHS #bearcatpride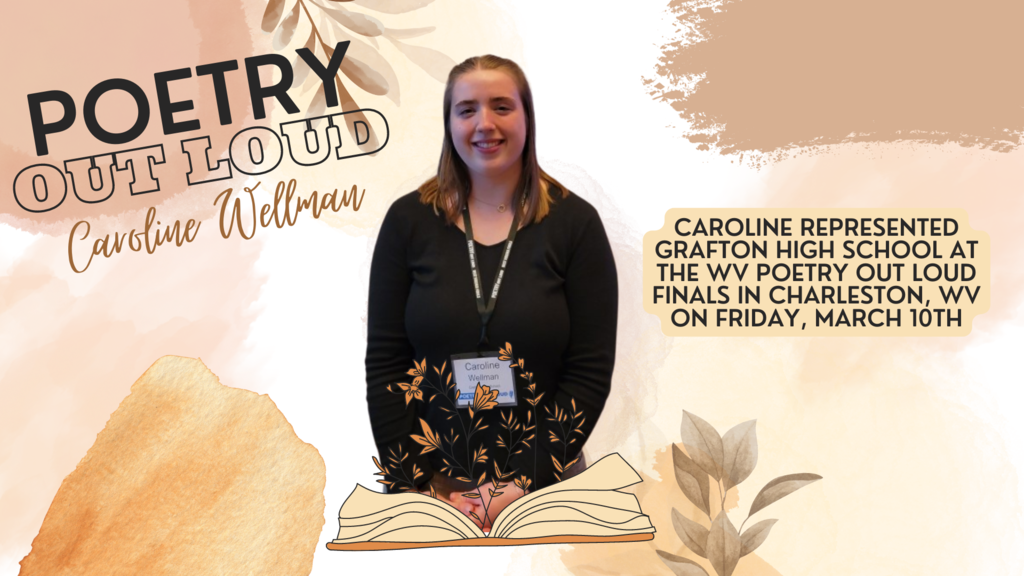 Great opportunity for girls interested in STEM.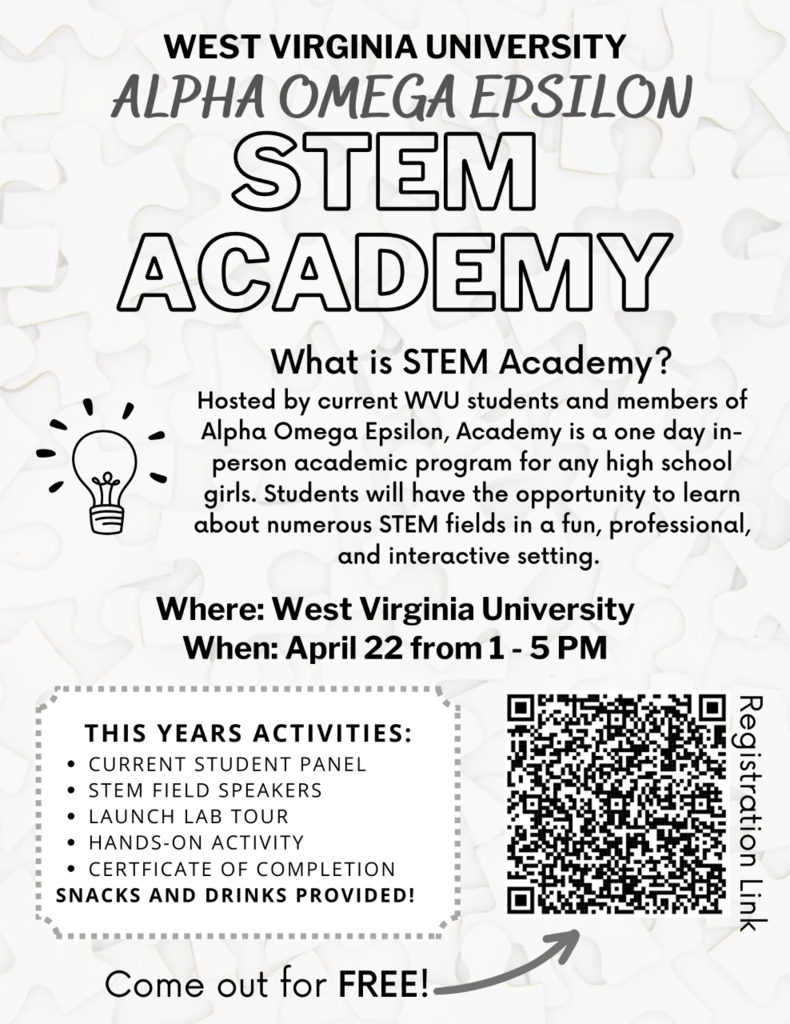 Congratulations to Justin Gainer for his performance at the Regional Math Field Day.  Justin placed 10th among all the high school students and will be advancing to the State Math Field Day on April 22nd. #BearcatProud
Junior Bearcats, On Wednesday, March 22nd you will be taking the college board SAT exam during our annual SAT School Day. This message is to inform you of important information regarding test day. Students are expected to report to the Scotty Hamilton gym by 7:45 AM. Staff will begin admitting students into the gym at 7:30 AM. Backpacks and other personal belongings should be kept in a locker, vehicle, or in the commons area. Smart Phones and smart watches are not permitted in the testing area. All electronic devices will be collected and placed in Ziploc bags with your name on it and stored in a secure location. Any device found in the testing area will result in your immediate removal from the testing center. The test shall begin no later than 8:30 AM and should conclude by 12:30 PM. Pencils, scratch paper, and calculators will be provided to you. You may elect to bring your own calculator, but it will need to be checked by our testing staff before entering the gymnasium. Students will have assigned seats in the gym and may not switch places before the test begins. A healthy snack will be provided by the cafeteria at roughly 10:30 AM. Water will also be provided. Students can elect to bring their own snacks and water, but items must be left under desk during testing. After completing the exam and being dismissed from the testing site students with a parent note are excused to sign out at the office. Students without a note will return to their scheduled classes. An optional lunch will be provided to all students after being released from the gymnasium. If you have any further questions, please reach out to Mr. Knopp

Parent-Teacher Conference Tuesday, 3/14 4:00 to 6:00
Updated 2023 Lady Cats Softball Schedule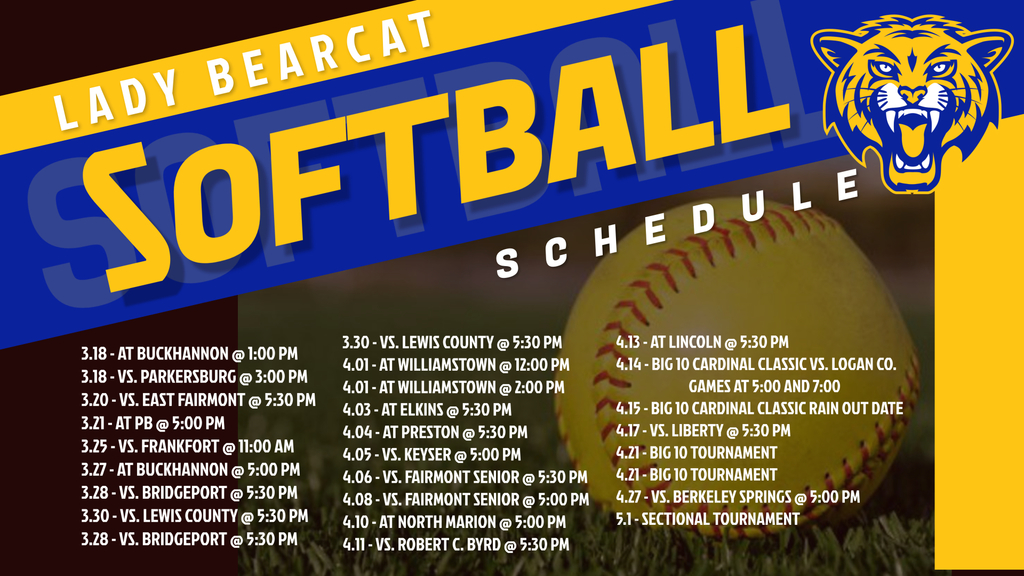 Do you think you may be interested in a career in aviation maintenance, do not miss this opportunity.
Interested in Aviation Maintenance through Pierpont? Pierpont Aviation Maintenance will have an open house on March 25th from 11:00 am - 2:00 pm at the National Aerospace Education Center. The event will focus on the program and careers that await graduates.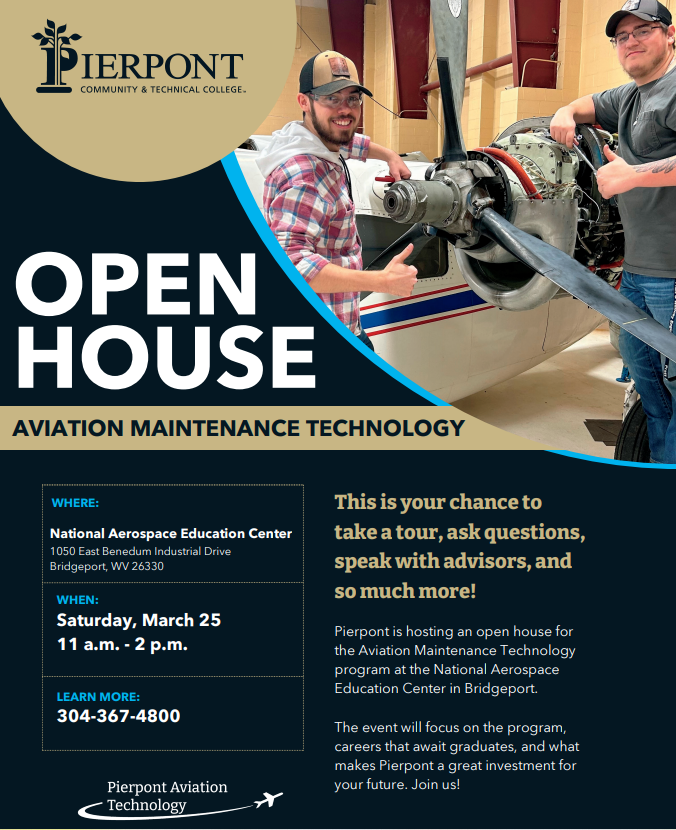 Congratulations to GHS winners of the Young Writer's Award. Grade 9-10 - Gabriel Young Grade 11-12 - Nathan Castle #BearcatProud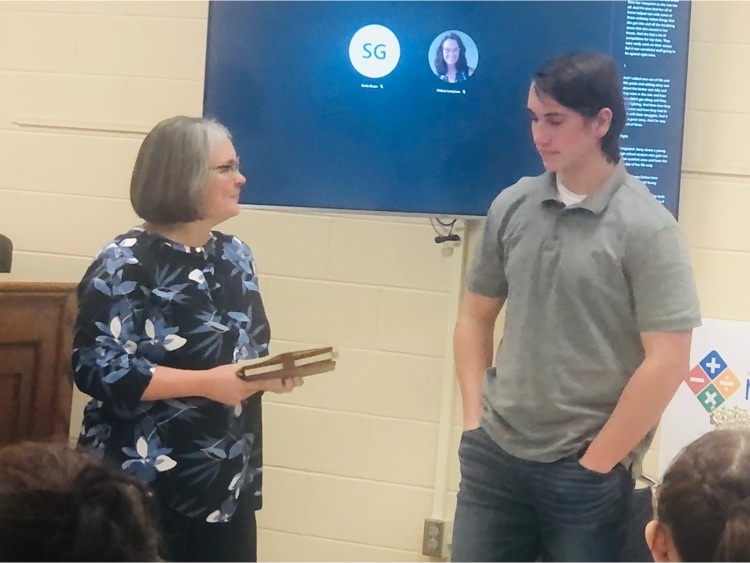 2023 Bearcat Spring Sports Schedules